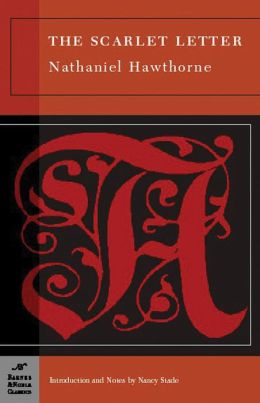 Me: I haven't read the Scarlet Letter.
Students: OH MY GOD YOU HAVEN"T READ THE SCARLET LETTER!?
Me: Nope. I mean, I know all about it, I just never got around to reading it.
Students: OH MY GOD THAT SHOULD BE, like, AGAINST THE LAW YOU ARE AN ENGLISH TEACHER
Me: So you would recommend it? It's that good?
Students: OH MY GOD NO IT IS TERRIBLE. BUT STILL!
That conversation has happened every year, sometimes multiple times a year, for the last four years while I've been a teacher. My argument is always that I can't read every book in existence, and secretly I have felt like it is a good thing to let students one up me in this way. For better or worse, I am expected to teach all or part of this book next year in American Lit, so I finally gave in and read it. I have misplaced my actual book, so this review will be rather short, lacking quotations, and unorganized as I actually read this book over two weeks ago.
1. I am thinking of cutting The Custom House completely when I teach it, as it is boring, and puts one off the book. It took me forever to get through this section myself and I kept thinking "how will I get my kids through this?" Every time I picked it up, my eyes fluttered shut and I ended up taking a totally unnecessary nap.
2. Ignoring the first section, I mostly enjoyed the novel as a reader.
Early into the novel I asked my fellow English teacher friend why this book is so reviled, and her explanation was apt: "You read it and you catch the symbolism and it's very subtle and interesting, and then you keep reading it and the symbolism is less subtle, and less subtle, until Hawthorne is hitting you over the head with it LOOK AT ME I AM THE FOREST THE FOREST IS A DARK PLACE THAT IS OUTSIDE OF CIVILIZATION WHICH CAN MEAN MANY MANY THINGS HERE LET ME TELL YOU ABOUT THEM" By the end of the novel, I really agreed with her, and I can see why it works well with students who haven't quite grasped that multi-layered-reading-ability and how it falls totally flat with the students who feel like Hawthorne is treating them like they're idiots. I was pretty surprised with how liberal/progressive/proto-feminist a lot of the novel read, and I'm looking forward to reading some of the lit theory surrounding it to see if I'm pushing my own ideas onto the novel or if it's commonly thought to be quite feministy.
3. As a teacher, I'm really looking forward to teaching it.
I think teenagers in the digital age have completely revitalized the topics of this novel. The completely hypocritical, stone throwing, judgmental
nature of teenagers+sex+sexting totally reminded me of the town - at least the Puritans had a chance of NOT being hypocritical while they were putting on their judgey pants. I really want to teach this with some news articles about bullying, cyber bullying, and some of the recent teen suicides that came after extensive bullying about sexual activity and/or orientation. Unfortunately, I'll be teaching this book with my juniors and I feel like they are almost too old for my After School Message. I'm also curious to have my students research and examine crimes and punishments around the world and have them start to critically think about our own American judicial system.